so we started nap training this weekend. any of you with babies knows how much fun it is (insert sarcasm here). now that they are just shy of 5 months we thought it was a good time to start. for those without experience, nap training = crying babies. saturday they cried for a bit when we put them down but in just a few short days we've made progress. both of them went to sleep without any tears this morning. davis is still sleeping now and berkley is talking to herself under the play gym as i type. she slept for over an hour, which is good for her.(davis has always been our sleeper!) the only reason i knew she was awake was because i heard her laughing and talking to herself in her crib a few minutes ago. this is a new and precious milestone! she usually wakes up screaming to be held or fed. yesterday afternoon she napped for over 2 hours and woke up talking and giggling for the first time. it must be a sign that she is more rested. (both babies slept 13 hours last night, only waking once at 6 am to nurse for less than 10 minutes)
this is how she fell asleep. she likes to put her bunny blanket over her face. after watching her belly rise & fall a dozen times i decided to let her be. bunny and all.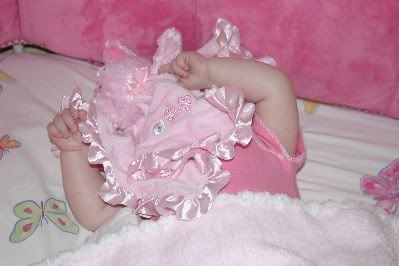 and this is how i found her after her nap...
smiling
talking
and laughing
and here is our precious boy snoozing away (he's going on 1 1/2 hours). yea for napping babies!!!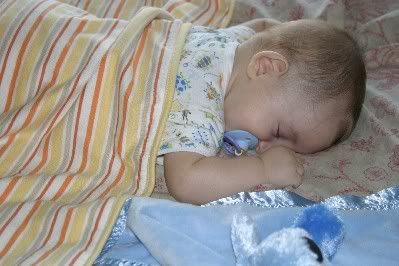 and here he is waking up. my sweet sleepy head.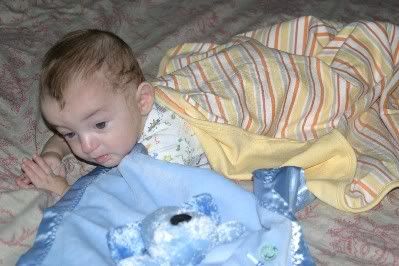 update: it is now 12:20 & both babies are down for nap #2. once again, there were no tears. (they ended up napping for 2 hours and woke up smiling & talking again). i am one happy mama on maternity leave! (i will be home with them until the first week of december.)
among the many new things they are discovering each day, they have learned to take out their pacifiers and play with them. thankfully, they are also figuring out how to put them back in.