well...more like 15 1/2 by now. oops.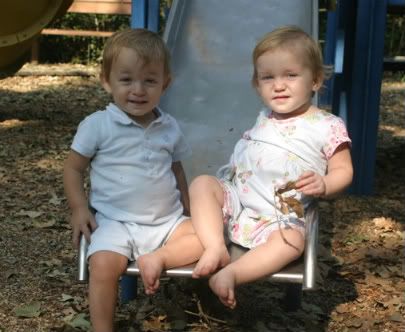 we are already 1/4 of the way through the babies 2nd year. each day brings more fun, more laughter, more discoveries & an inconceivable amount of more love. if only it would slow down long enough to drink it all in! i just don't want to forget a moment of life with davis & berkley. side note: i'm daily overwhelmed by the generous gifts God has freely given to us... and i understand His love toward me in a much deeper way since becoming a parent. "how great the Father's love toward us, how deep beyond all measure...that He would give His only Son, to make a wretch His treasure."
new things we love about parenthood:
* davis & berkley walking/ wobbling here, there & everywhere
* lot's of laughter filling the walls
* new words: shoes, eyes, elbow, hat, water (wa-wa)
* identifying new body parts: elbow, fingers, eyes, hair, piggies (toes)
* the sound of our names calling through the house (for now it's still cute)
* berkley picking up a picture of me, kissing it while saying "mama"
* kisses, kisses, & more kisses, initiated by the babies. baby sound effects included (MUAH!)
* berkley calling davis "bubba or da-da"
* playing chase
* watching davis & berkley grow in friendship
thank you, Lord, for the richest 15 months of our lives
and here is the rest of the lyrics to that song, just for fun...and just because i love it!
How deep the Father's love for us,
How vast beyond all measure
That He should give His only Son
To make a wretch His treasure
How great the pain of searing loss,
The Father turns His face away
As wounds which mar the chosen One,
Bring many sons to glory
Behold the Man upon a cross,
My sin upon His shoulders
Ashamed I hear my mocking voice,
Call out among the scoffers
It was my sin that held Him there
Until it was accomplished
His dying breath has brought me life
I know that it is finished
I will not boast in anything
No gifts, no power, no wisdom
But I will boast in Jesus Christ
His death and resurrection
Why should I gain from His reward?
I cannot give an answer
But this I know with all my heart
His wounds have paid my ransom