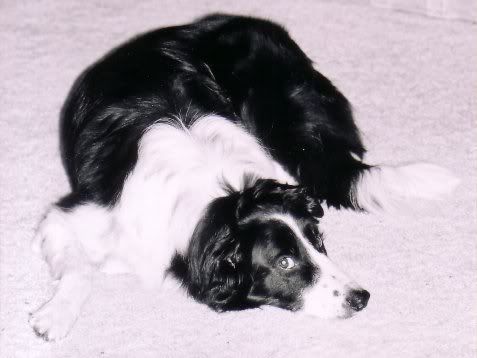 can't sleep. it's 4 am & even my sleep's been covered with thoughts & dreams of trooper. each noise wakes me with the hope that it's him... tapping the hardwood floors with his overgrown toenails. (one of those things i will miss that drove me crazy, especially when the babies were sleeping.) i thought it might help me grieve to write down some affectionate qualities that made him the great dog he was. let me first say that when this has happened to other people, the loss of a pet, a small thought crept in..."it's just a dog." now i know better. trooper was family. not in a
"Best In Show"
kind of way but in the "man's best friend" kind. he had so much personality & the smarts to match. anyone that knew him can verify that he'd never met a stranger. we often joked that he would unlock the door for a criminal if he could. anyone with hands was his new best friend. it meant more lovin for him, which was one of his favorite things. another favorite was chasing imaginary squirrels. if ever there was a tree that EVER contained a squirrel, it was his mission to find it. our laid back, calm trooper would become compulsive, neurotic & determined. he would circle the same tree for hours. thankfully we've never had large trees so it wasn't a problem. as for our parent's trees...that's another story. another favorite of his was ryan. trooper loved ryan. they were buddies. when ryan would go on an errand, trooper would wait by the door for him. just recently we had a date night & the baby sitter said trooper didn't move from the door the entire time. whenever he heard the car door shut he would quickly stand, ears turned up in anticipation. he loved playing with ryan. tug of war was the game of choice. he wasn't all that coordinated with a ball or frisbee... one of those border collie traits he missed out on. so tug of war it was. i didn't win too often. it sounds crazy but he liked hide & seek too. we would go in another room & call his name. he'd look under beds, behind doors, & in closets until he found us. he'd remember the first place we hid last & always checked there first. funny dog. trooper knew by the sound of his name if he was in trouble. (didn't have to be loud...just a long, annunciated "troooooooper" ). it never took much to correct him & he was hardly ever in trouble. just the sound of his name would send him crawling out of a room... head down low with his tail between his legs. when we were living in austin we realized he'd been lying on the couch while we were away. one day ryan just pointed to the cushion without saying anything. trooper sulked out of the room, peeking at us from the corner of one eye. he'd go to another room & curl up in a ball. we never let him feel guilty for long. we'd call him back in just to remind him how much he was loved. trooper loved going for walks & in my marathon days, for runs. we'd run for miles & miles and then crash. just the sight of a pair of running shoes made his day. my dear friend jacki (a college roommate) was kind enough to take him walking too. between the two of us, he was in great shape! one time jacki & i lived near a park. our house was always full of people & at some point the door was left open with all the coming & going. trooper got out & ran around for a while. you can imagine how worried jacki was since i wasn't home. not trooper though. he was enjoying himself at a child's birthday party at the park. when she found him he even had a bow tied around his neck. it's raining now in dallas, which reminds me that trooper hated the rain. thunderstorms sent him straight to the bathtub. it must have been where he felt safe. at the first rumble, he'd head for the restroom & jump into the bathtub. no amount of petting could distract him. as soon as the rain & thunder stopped, he'd be back. did i say he was a funny dog? this post has gotten long & i'm impressed if you're actually still reading. it could go on forever but these are the things we don't want to forget...like the way he would paw at you if you were nearby. he needed to have his paw touching you...maybe your foot, your leg, your side. he just needed physical contact. i think that was his all time favorite. trooper brought so much joy & laughter to our life & home. i've been tempted to feel guilty for neglecting him once the babies were born. ryan reminds me that the last 6 months is a short time in our history with him. although we have been occupied as new parents, trooper knew he was loved. i'm so thankful for the last few weeks and the chance to really show him how much. all rules went out of the window. like letting him climb into bed with me while watching t.v. at night. giving him scraps of food from the table & another helping of dog food if he liked. trooper did know he was loved. very very much.
just recently ryan talked about romans 8... how creation groans in anticipation of Christ. every created thing reflects & waits for Him, their Creator... even if they don't know it yet. troopers very existence had purpose. his life honored God. what an amazing thought. even more, that God delighted in trooper.
Colossians 1:16
For by him all things were created: things in heaven and on earth, visible and invisible, whether thrones or powers or rulers or authorities; all things were created by him and FOR HIM.
i'm so thankful that trooper was ours... for 7 years, we were his home.
not sure how to end this post... i'm more sure that there will be more. more stories & pictures to share. we want to keep his memory alive. i'm thankful for this place that makes it possible.
we love you trooper. we miss you terribly.