for the last 3 years we've attended the 4th of july celebration at the George Bush Presidential library & museum. the babies were only 4 weeks old last year, so our trip was fast & furious. (especially once we got caught in a rain storm.)
this year felt more like a scene from steel magnolias...complete with live music, sausage on a stick, carnival games & our very own radio flyer wagon *adorable twin babies included!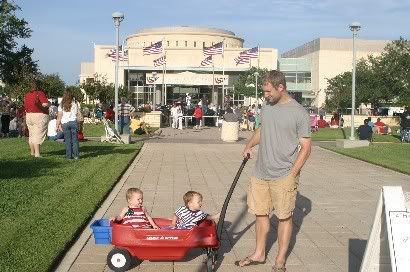 a baseball exhibit was up at the museum.
while posing with yogi berra ryan joked that he & davis could be related to him because of the ears.
daddy & davis ryan, our future all-star. how's that for stage parent? :)