the day i learned of
this tragedy
(a family of five being killed in a car accident) was just one of those days...weeks really. the kind you feel powerless as a mother. the kind where all you can say is, "Jesus, help me."
can i be honest?
there are several areas of life i think i can do without His help. if you know me well, you've heard me say it before. if you don't... then welcome to my closet - the place where dark corners so desperately need His light! God has gifted me in such a way, with skills in certain areas, that i often live independently of Him & "get by".... in the classroom, in leadership positions at work or in ministry, in important relationships... you get the picture.
this of course is a fallacy...
oh, the sin & folly of self-reliance.
"i've got this, God."
and then i became a mother.
i have always said that parenthood is the crucified life...
the call requires dying to self & all of those self-centered, self-reliant, self-exalting tendencies that i am so good at.
dependent on Him, supplied with His strength, living by faith... moment by moment.
..."and it is no longer I who live, but Christ lives in me; and the life which I now live in the flesh
I live by faith
in the Son of God, who loved me and gave Himself up for me." galatians 2:20
i don't have it
at all
. i need God. desperately.
this call of motherhood reminds me...
every day
every tantrum
stomach virus
pile of laundry
or sippie cup filled with curdled milk
i need God.
He has been teaching me most through a certain son that i love. davis - full of heart... an equal amount of spirit.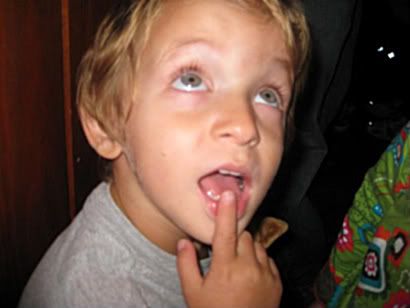 who me?
a few days ago i stumbled upon our day care's monthly newsletter. curious about toddler happenings i began to read...
"___ is working hard at potty training. ___ loves the home center. ____ vocabulary has exploded. ____ loves the block center. ____ builds houses & forts. ____ is a leader. ___ is always eager to help."
drumroll please
" and davis has improved quite a bit on his social skills."
"that's great!" you might say.
all kids need to improve social skills, right?
in fact, that is what i do for a living (at home & at work)
...help children to develop their social skills.
but i'll let you in on a dirty little secret...
this is
teacher code
for "davis has behavior concerns."
thankfully, i too, speak teacher code & do not take offense.
i know this to be true of davis, son that i love...
son that i learn from.
do i wish it wasn't announced in a school-wide publication? absolutely.
has God used it to strengthen dependence, deepen humility, & widen my sense of humor? most definitely.
thank you, Lord, for reminding me that
i can do nothing apart from you
. and thank you for the gift of motherhood... that which makes us lowly when we begin to believe otherwise.
I am the vine, you are the branches; he who abides in Me and I in him, he bears much fruit, for apart from Me you can do nothing. john 15:5