today being the eve of February inspires me to finish this post... a reflection over the last 10 years. facebook recently had WAYBACK WEEK, encouraging millions of members to post pictures from way back when. i blew the dust off my old shoe boxes, pulled out the scanner and poured over the memories.
i am so thankful for the people & events, the joys & heartaches that have been a part of God's story of my life.
so many pictures
the little girl who made imaginary friends, whose daddy was her hero, who prayed "the Lord her soul to keep" on her pillow each night.
the awkward tween
4-feet-nothing, whose highest hope was to fit in, and maybe even a training bra.
the typical teenager
talking all about nothing, laughing with best friends & crying over boyfriends.
how clearly i see Him now. He was
there all along
...
sovereignly drawing, shaping & working all things out for good.
and
it is still so
...
Creator God bends down low
hears our hearts
counts our tears
beckons our gaze
governs all things
Act 17:27 he determined the times set for them and the exact places where they should live. God did this so that men would seek him and perhaps reach out for him and find him, though he is not far from each one of us.
here is a look back over the last 10 years...
the times & places He set before me
my pivotal 20s, some of the greatest years yet...
newyears eve 1999
(also known as
Y2K
)
my best friend jamie & i talked ourselves out of our pajama pants & over to renee's house for a wild and crazy night of....
BUNKO!
we enjoyed the turn of the century with some of our beloved GBC friends & staff.
that same year i served on staff for Youth Impact (formerly known as Mission). there was this guy named ryan
or was it kyle?
i wasn't quite sure.
i'd met him the year before in 1998 & although his genuine care for others was impressive, our circles didn't yet cross.
he happened to join the leadership team during my second year on staff.
his integrity & matchless sense of humor caught my eye
(or was it his rugged good looks?)
staff retreat- january 2000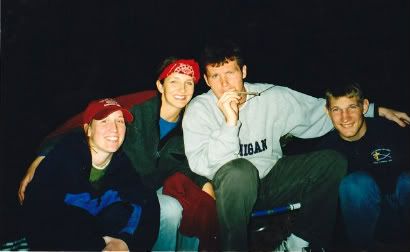 and so began the longest crush of my life
i remember asking a good friend if she thought i was in love with him.
she gently reminded me that we were not even dating... so no- probably not.
our friendship grew over the next year...along with my affection & resulting confusion.
september 2000
the long awaited DTR (defining the relationship) talk.
this is a picture of the sunset the Lord gave me that night...
i'm convinced it was just for me. the beginning of the greatest love story.
ours.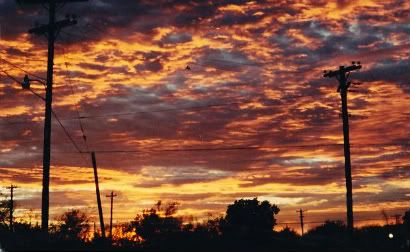 turns out he liked me too & decided to tell me so.
we continued serving in Youth Impact ... ryan eventually becoming the student director.
breanna, essence & monica
december 2000
my dad gave me a wonderful gift...
the coolest dog that ever lived
or at least the best to ever chase imaginary squirrels.
sweetest trooper.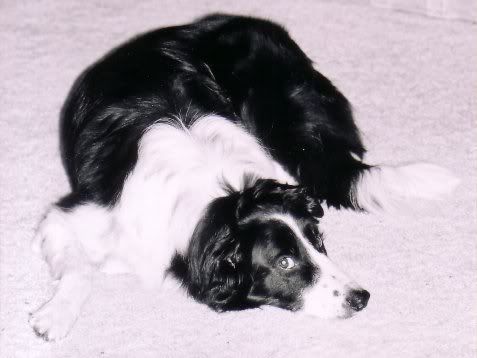 ryan loved him too...which was a good thing since he would eventually inherit him.
ryan helping trooper & the roomies move houses that spring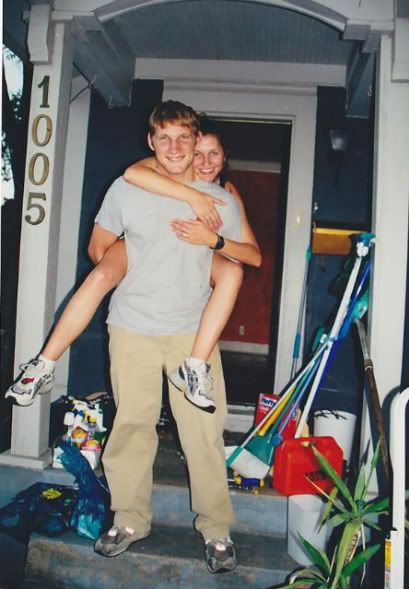 aggie ring dance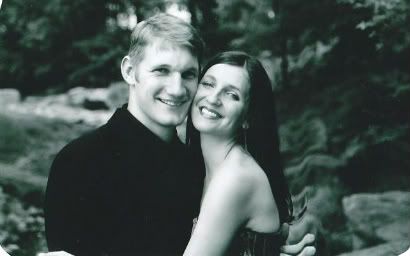 summer 2001
i spent several months in namibia, africa
i learned a lot that summer
that God is not american
that He works in inconceivable ways
ways i will never wrap my mind around
that His heart is for the nations & He is drawing them to Himself
that the poor of this world are often rich in faith,
having nothing, yet possessing everything
that it is a joy & privilege to be the feet that bring good news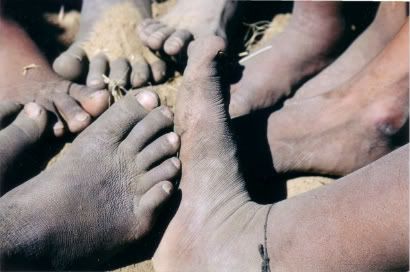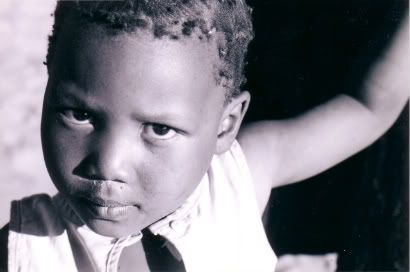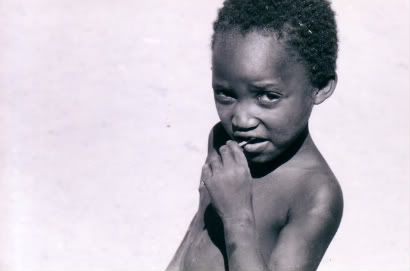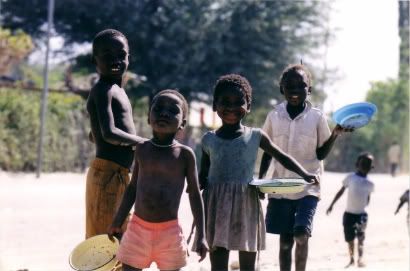 fall 2001
i started my grown up life... my first year of teaching
i learned a lot that year too...
mostly that teachers are much more than teachers
they are often parents, counselors, nurses, nutritionists, & custodians - to name only a few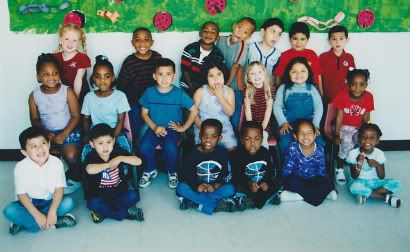 february 9, 2002
a homemade book of journal entries, thoughtfully bound together with love
the last page changing my life forever
will you marry me?
i said yes.
sort of
only after...
"what in the world!"
"NO WAY!"
"are you serious?"
...
yes!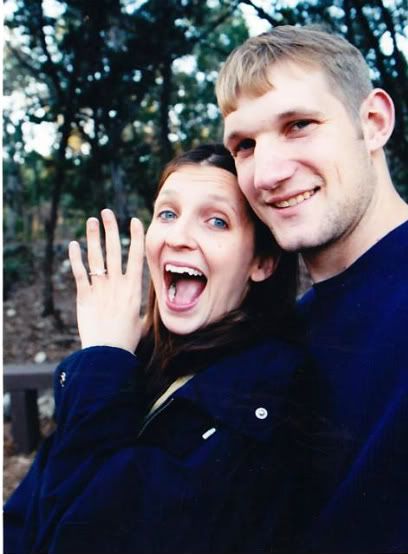 our engagement party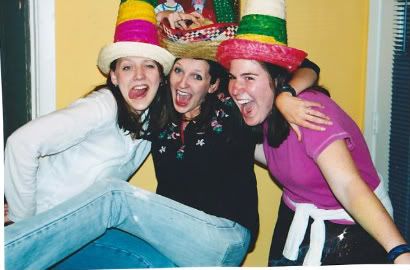 pictured here with 2 of my closest friends (also my roomies at the time)
july 13, 2002
the day i married my best friend...
who just happens to make me laugh harder & love deeper than anyone i've ever known.
honeymoon lovebirds
summer 2002
we moved to austin & lived on love. you think i'm joking.
ryan sold long term health insurance & vowed to quit the day he became a salesman. turns out he was good at making elderly friends...
not so good at making sales.
i taught at a private pre-k.
turns out i was good at teaching children...
not so good at teaching 2 year olds. or at least not changing their many diapers. (who's laughing now).
hmmmm...could this experience have been a subconscious motivation to my potty training the twinks so early?
just a thought
later that spring
we got the phone call that would change the course of our life. i remember it well.
would ryan be interested in coming back to work at Grace Bible Church?
the phone receiver shoved between both of our ears.
we replayed the message while jumping up and down in our small apartment kitchen. literally.
two grown people jumping like little league all-stars.
april 2003
we made our way back home: college station, texas
(yes, you can whoop)
ryan began working full time as the director of youth impact
i landed my dream job working for Head Start in College Station ISD
Creator God
bending low
meeting our needs
setting the places & times before us
august 2003
we bought our first home... a Divine provision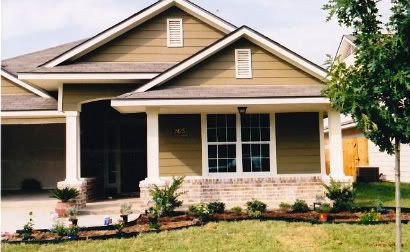 the next several years were spent growing in marriage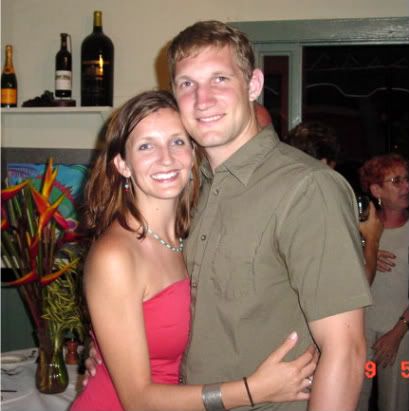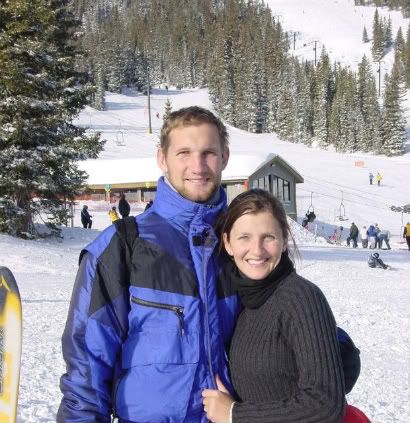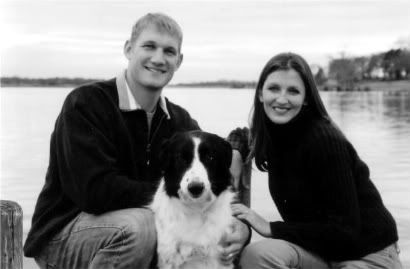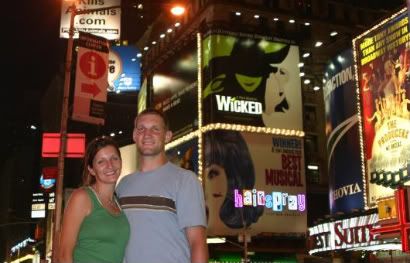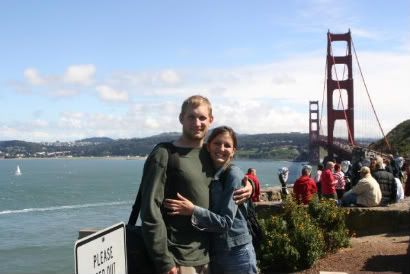 growing in ministry
growing more open to motherhood
you see i had a plan. i always do.
my plan was to be unplanned...
one day i would just be pregnant.
at first i would probably think, "oh, crap"
but then i'd have no choice but to get ready.
who needed a plan... it would just happen.
conveniently some day in march of course.
just in time for the perfect teacher maternity leave.
i made sure to mark my calendar to be sure.
a diagnosis, dozens of injections & over a year later
there He was again, appointing the time set before me
july 2006
ryan & i were celebrating our 4th year of marriage in a hill country hideaway when we made this discovery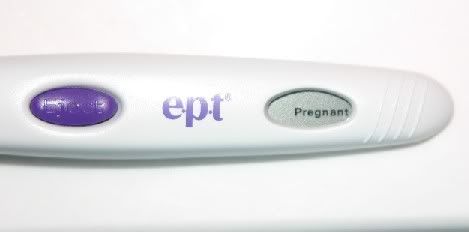 one month later
our first ultrasound
no heartbeat
our doctor remained hopeful, like any good doctor should
another week passed
another ultrasound
talk of a d&c
it was a grief like no other.
the hospital wall held me up on one side, ryan on the other.
driving slowly home,
carefully navigating through the flood of tears.
we climbed in bed & wept that afternoon.
loss upon loss, sorrow upon sorrow.
and yet we did not grieve as those who are without hope...
God did this so that men would seek him and perhaps reach out for him and find him, though he is not far from each one of us.
He was not far at all
just one month later we pressed on, resuming treatment.
October 31st, 2006
i forced deep breaths into my lungs.
ryan held my hand & prayed as i lay waiting.
all i wanted was to see a heartbeat this time.
and there it was.
and there was the the other.
it's a boy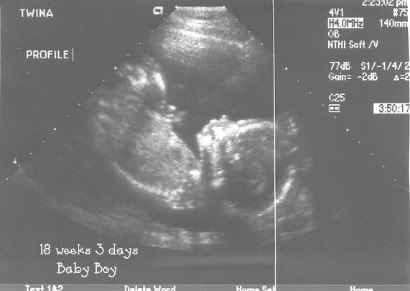 and a girl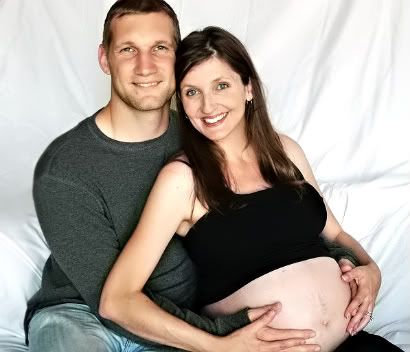 it took me 9 months to fully realize there were 2 heartbeats that day.
in many ways i am still in awe & wonder.
we have a Mighty God
preparing the nursery for two